We continue to share the most beautiful and free amigurumi patterns for you. You can visit our website for Amigurumi Heidi Free Pattern and more patterns.
In this article, we will share the amigurumi heidi recipe with you, let's give a brief summary about our heidi doll, which is in the amigurumi doll toys category, maybe there are people who do not know.
Heidi is a children's novel that was written in 1880 as a children's novel and is widely known for its cartoons. It is a novel that deals with the main character Heidi's adaptation problem as a result of being taken from the village to the city, and her longing for her village and her grandfather. Most of us are familiar with this story, if you are not familiar with it, we definitely recommend that you read it first.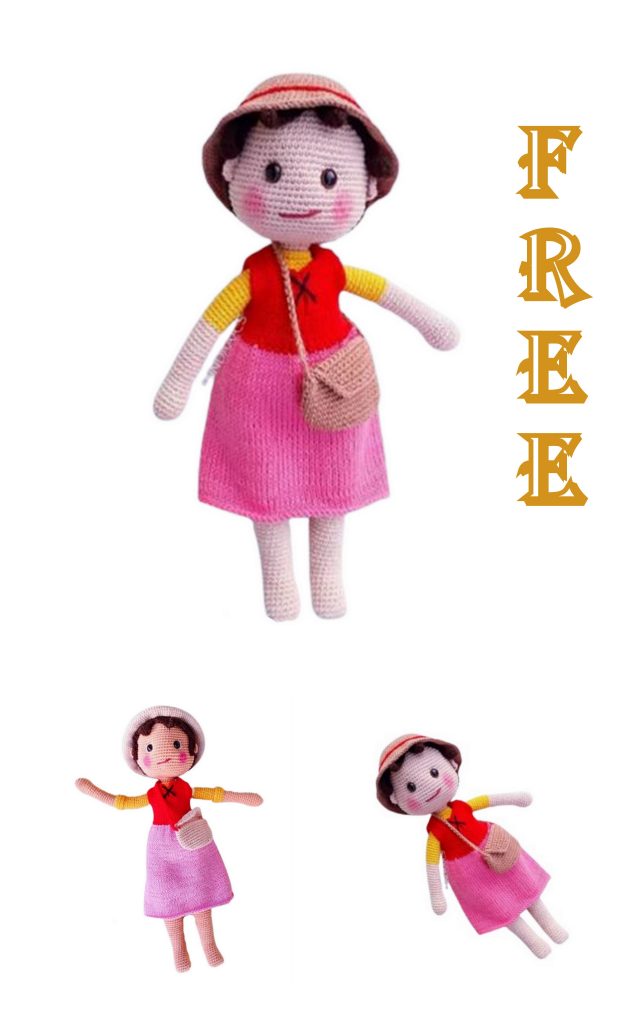 1 Materials Used and Abbreviations
1.1 Ingredients
1.2 Restrictions
2 Amigurumi Heidi
2.1 HEAD
2.2 BODY
2.3 FEET AND LEGS
2.4 ARM
2.5 WIG (HAIR)
2.6 HAT
2.7 BAG
2.8 DRESS
Materials and Abbreviations Used
Materials
Pink, red, yellow, tan, brown
Red thread for mouth embroidery
2.0 mm crochet
bead fiber
8mm safety eye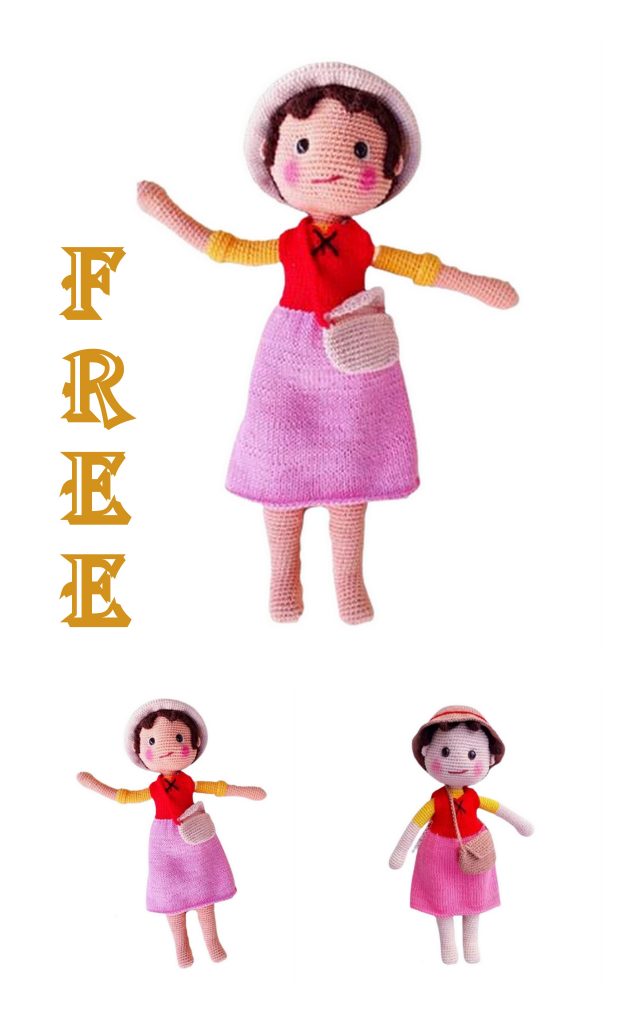 Restrictions
SH = magic ring
O(CH) = Chain
inc = binary Increment
W = Triple Boost
A = Double Deduction
M = Triple Deduction
C (SL-ST) = Loop shift
SC (SC) = sc
BLO = Knitting by sinking into the yarn behind the loop
FLO = Knitting by sinking into the yarn in front of the loop
T (HDC) = Single Handrail
F (DC) = Double Handrail
F (TR) = Triple Handrail
incHDC = 2 HDCs in/to Same Hole
incDC = 2 DC to same Hole/ground
Color Change
Finishing
Amigurumi Heidi
HEAD
1) 6sc into the magic ring
2) 6inc (12)
3) 1sc1inc (18)
4) 2sc1inc (24)
5) 3sc1inc (30)
6) 4sc1inc (36)
7) 5sc1inc(42)
8) 6sc1inc (48)
9)7sc1inc(54)
10)8sc1inc(60)
11) 9sc1inc(66)
12)10sc1inc(72)
13.14.15.16…21knit (72)
22) 11sc1inc (78)
23.24.25.26.27.28.29 Knit straight (78)
30) 11sc1dec(72)
31)10sc1dec(66)
32) 9sc1dec(60)
33)8sc1dec(54)
34)7sc1dec(48)
35)6sc1dec(42)
36) 5sc1dec(36)
37) 18dec
BODY
Pull 6 chains between the legs and join them in the middle, cut the rope
1) Knit 1 row, starting from anywhere (60)
2.3.4…10 rows straight knit (60)
11) 8sc1dec(54)
Switch to sari
12) Knit Plain (54)
13.7sc1dec(48)
14.15.16.26 knit rows straight (48)
27)6sc1dec(42)
28) Plain knit (42)
29) Combine body and arms with 6sc and completely fill (make sure it is proportional)(50sc)
30) At the junction of the arms 4a (46)
31) Likewise 4a (42)
32)5sc1dec (36)
33.4sc1dec(30)
34.3sc1dec(24) (knit from front)
35)2sc1dec(with tan on the back)(18)
36.37.38) rows Knit straight.
FEET AND LEGS
1) Draw 7 chains from the 2nd stitch Wrapped through the entire row (12)
2) 4sc bat 5sc to first sc 4sc bat(18) to 6th sc
(we increase 3 frequent needles from both sides)
3.4.5.6.7.8 plain knit (18)
9) 3sc back 8sc
10) Go back 7sc
11) Back 6sc
12) Go back 5sc
13) Back to 4sc
14)Back We insert the 3sc loop locator here
15) Foot wrap (18)
16.17.18…21 rows straight (18)
22)3sc1inc 8sc1inc 5sc (20)
23.24…27 rows knit straight (20)
28) 4sclu 9sc1inc 5sc (22)
29.30…33 rows straight (22)
34)5sc1inc 10sc1inc 5sc (24)
35.36.37…47 rows straight (24)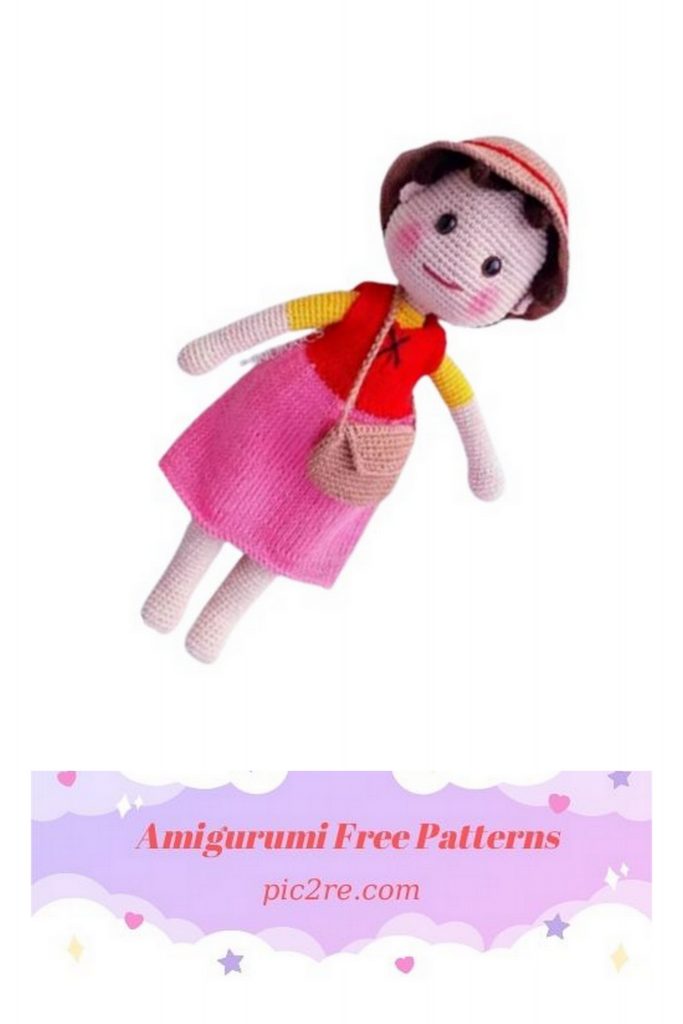 ARM
1) 6sc into the magic ring
2) 6in (12)
3)1sc1inc(18)
4)-7).knit plain (18)
8) 4sc1dec(15)
9)-23) row straight (15)
switch to yellow
24)-35) Straight across the row (15)
WIG (HAIR)
1) 10sc into the magic ring
2)10dcinc (20)
3)1dc 1inc(30)
4)2dc 1inc(40)
5) 3dc 1inc (50)
6) 4dc 1inc (60)
7-10) (4rows) plain knit (60)
11) 20sc knit 10 chain checks, knit chains with dc, and return, skip 2 loops, tie the 3rd, tie the railings 6sc, 8 chains, pull again with dc, double knit the last two last two loops, tie the 3rd loop, make 1sc, 8chain pull, the same with dc return to the last 2 loops, double knit 3rd loop, 6sc repeat 1/ chain again, return with dc, connect to the 3rd loop, knit until the end of the row as straight sc until the beginning of the row.
CAP
1) 6sc into the magic ring
2) 6in.
3) 1sc1inc (18)
4)2 sc1inc (24)
5)3sc1inc (30)
6)4sc1inc(36)
7)5sc1inc(42)
8)6sc1inc(48)
9)7sc1inc(54)
10)8sc1inc(60)
11) 9 sc1inc(66)
12)10sc1inc(72)
13)11sc1inc(78)
14.15…20) Rows straight (78)
21)3sc1inc(98)
22)4sc1inc(118)
23.24.25.26) plain knit (118)
27) flat knit with the loop shifting method
BAG
1) Pull 13 chains wrapping straight around(24)
2) make 4 sc in the first loop 4 times, knit 11sc, knit 4 sc in the 12th loop again 11sc
3)3inc 12sc 3inc straight to end of row (36)
4.5.6.7.8.9.10.11) Knit rows straight
12) 4sc knit back 16sc
13) back 15sc
14) Back 14 sc
15) Go back 13sc
In this way, we make 1 reduction in each row until 7sc remains. Then we go around the full tour bag straight, fold the rope in half and make the handle with 47 chains and attach it from the sides.
DRESS
Start 84 stitches with pink color and knit 37 rows.
38) Knit 1 single in the row, and decrease the rest as even (44 stitches will remain)
39)switch to red knit 9 rows of plain red (44)
Divide it into 4 parts as in the image 40. Knit each part one by one as 11 loops.
1st piece 11 stitches 11 rows
In the 2nd piece, cut 11 stitches 7 rows of 5 loops for the straight neck 4 rows straighter
3rd piece 11 stitches 11 rows straight
4.piece 11 stitches 6 rows of straight, cut 5 loops from the neck, knit 5 more rows
Assemble the pieces as shown in the image.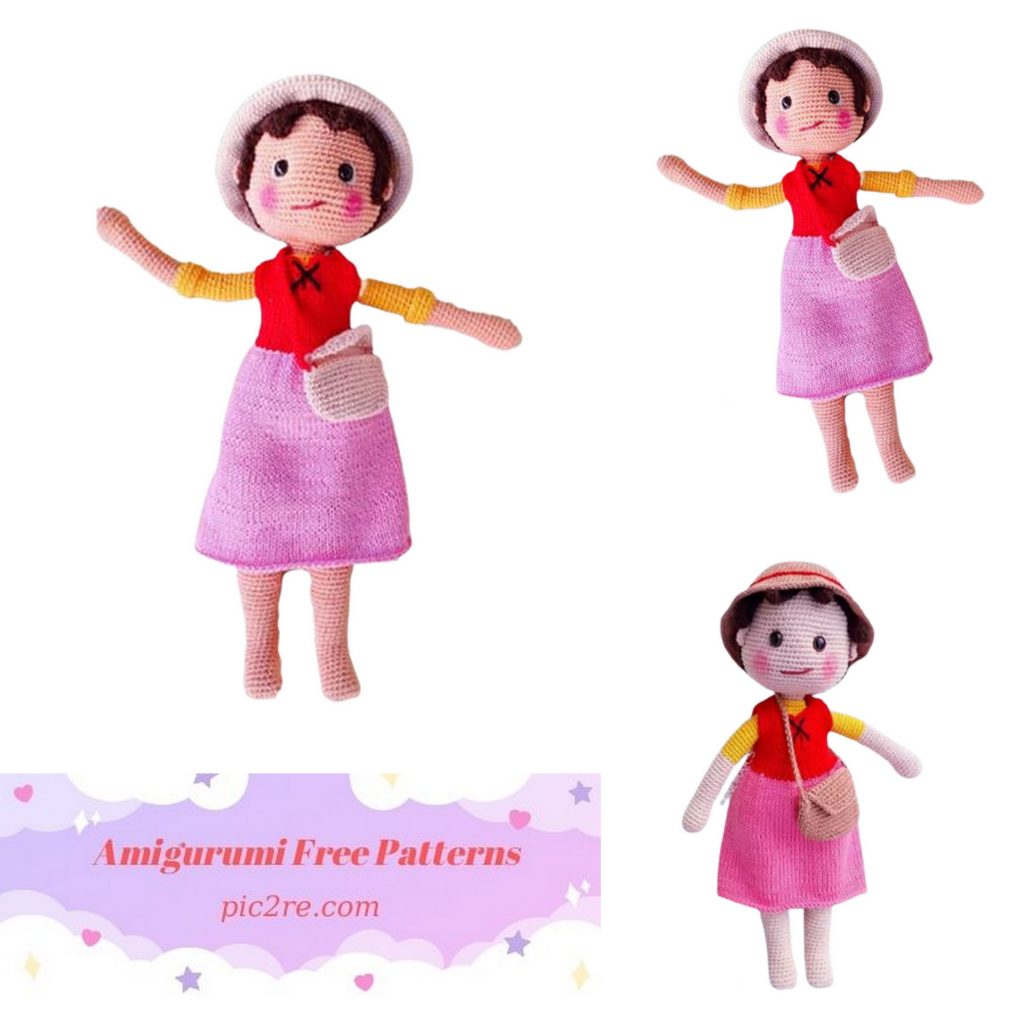 We have come to the end of the heidi recipe, one of the amigurumi doll models. I hope you have enjoyed knitting this pattern. Hope to see you again in another amigurumi recipe, goodbye.