We continue to share the most beautiful and free amigurumi patterns for you. You can visit our website for Amigurumi Deer Doll Free Pattern and more patterns.
DANESSA MATERIAL LIST
Lanoso Alara 937 Ten
Lanoso Alara 992 Brown
Lanoso Alara 957 Claret Red
Lanoso Alara 958 Navy Blue
For 10mm brown pupil
5 mm black eye deer for bag
synthetic hair
4mm wire 30cm
2.00mm tig
embroidery thread
Fiber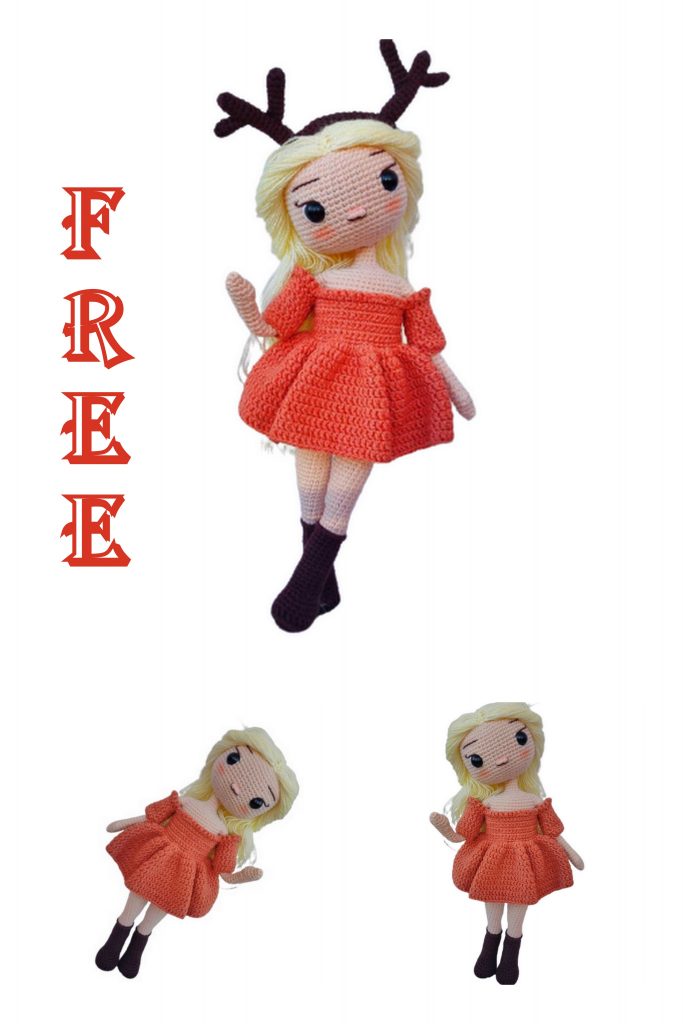 HEAD:
We're spiraling.
1: 6sc into sh
2: 6inches
3: (1sc,1inc)*6
4: (2sc,1inc)*6
5: (3sc,1inc)*6
6: (4sc,1inc)*6
7: (5sc,1inc)*6
8: (6sc,1inc)*6
9: (7sc,1inc)*6
10: (8sc,1inc)*6
EYES:
Between Rows 17 and 18, it will be attached to Loops 1 and 13 between them. (10sc between 2 eyes)
11-23: Knit 13 rows straight
24: (8sc,1dec)*6
25: (7sc, 1dec)*6
26: (6sc,1dec)*6
27: (5sc, 1dec)*6
28: (4sc,1dec)*6
29: (3sc,1dec)*6
30: (2sc,1dec)*6
31: (1sc,1dec)*6
EYELASH:
Counting from the top of the eye, we process 5sc to the side. We make eyelashes with 1sc side and diagonal on it.
MUSCLES:
4 rows up from the top of the eye to be worked 6sc.
ARM:
We knit a spiral
1: 5sc (5sc) into Sh
2: 1inc,3sc,1inc(7sc)
3: 1inc,5sc,1inc (9sc)
4: 1inc, 7sc,1inc (11sc)
5: 9sc, 2hdc(single handrail) (11sc)
6:9sc,2sl-st (11sc)
In the meantime, we bend the wire as in the image and place it in the hand.
7: 1dec,7sc,1dec(9sc)
8: Knit plain(9sc)
9: 1dec, 7sc (8sc)
10:1dec,6sc
11-28: Knit flat (7sc)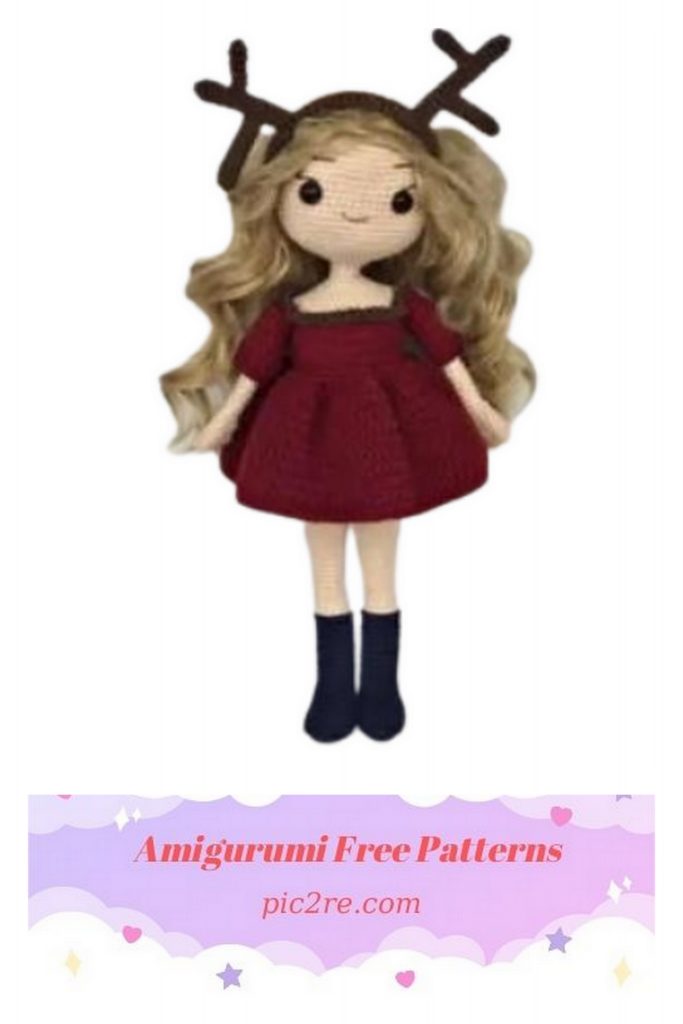 LEGS:
We knit the navy blue boot with sl-st.
1: pull 8 ch 6sc from 2nd ch, 3sc, 5sc, 1inc (16sc) into same loop
2: 1sc,1inc,4sc,3inc,5sc,1inc,1sc (21sc)
3: 3sc,1inc,17sc(22sc)
4: BPSC as dc (22dc)
5-7: knit 3 rows (22sc)
8: 8sc,1dec,1m 1dec, 7sc (18sc)
9: 8sc,1dec,8sc (17sc)
10: 7sc,1m,7sc (15sc)
11-22: knit flat (15sc)
23: Knit with Flo (15sc)
We switch to tan color 15sc from Blo. Now we're going to spiral.
24-25: Knit flat
26: 3dec, 9sc
27-28: Knit flat
29: 3in,9sc (15)
30-31: Knit flat
32: 1inc,6sc,1inc,7sc
33-34: Knit flat
35: 1sc,1inc,6sc,1inc,8sc
36-47: Knit plain
BODY:
We knit a spiral.
1: Combine with 2 ch (feet facing you)19sc, 2sc on ch, 19sc, 2sc on ch
2: 10sc,1inc,19sc,1inc,11sc (44sc)
3-5: Knit plain (44sc)
6: 11sc,1inc,20sc,1inc,11sc (46)
7-10: Knit flat (46sc)
11: 11sc,1dec,20sc,1dec,11sc (44sc)
12: Knit plain (44sc)
13: 10sc,1dec,19sc,1dec, 11sc (42sc)
14: Knit plain (42sc)
15: 10sc,1dec,18sc,1dec,11sc (40sc)
16-17: Knit plain (40sc)
18: 10sc,1dec, 17sc,1dec,9sc (38sc)
18: 10sc,1dec,17sc,1dec,9sc (38sc)
19-27: Knit plain (38sc)
We add the handles.
28: 11sc, 2sc(add arm), 16sc, 2sc(add arm), 7sc (38sc)
29: 11sc, 5sc(add arm), 16sc, 5sc(add arm), 7sc (44sc)
30: Knit plain (44sc)
31: 9sc,1dec 4sc,1dec,13sc,1dec, 4sc,1dec,6sc (40sc)
32: 8sc,1dec, 1m, 1dec,11sc, 1dec,1m 1dec,7sc (32sc)
33: 2sc,1dec,4sc,3dec,3sc,1dec,3sc, 3dec, 4sc (24sc)
34: 1sc,1dec,3sc,20,3sc,2dec,3sc,1dec,2sc (18sc)
35: 1dec, 2sc,2dec, 2sc,3dec, 2sc (12)
36-39: Knit 4 rows straight (12)
DRESS:
Pull 1ch in each row and turn
1: we pull 50 ch and skip 7sc, knit flat (43sc)
2-8: Knit plain (43)
9: Combine with SL-ST and knit flat (43sc) Now join with sl-st at the end of each row. Pulling 1ch, we go up.
10: Dcinc (as a handrail increase, eg)(86dc)
11: 2dc, 1dcinc (114dc)
12-20: Knit in dc (114dc)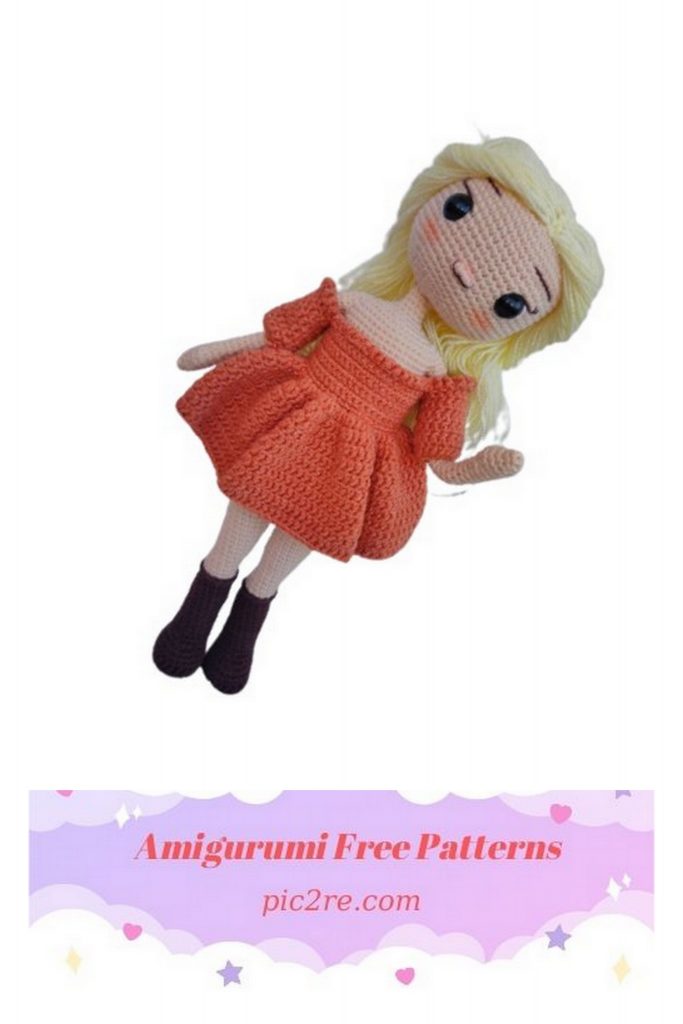 Dress Sleeves:
We knit with SL-ST.
We draw 1: 15 ch and connect it to the other end with sl-st. We knit 15 dc by pulling 1 ch.
2-6: Straight knit. Finish with sl-st at the end of each row and draw 1 ch (15dc)
We connect the sleeves with the dress. Count 8sc from the back of the dress and join the sleeves with 4sc.
The arms should be right in the middle.
Dress Collar:
– (1sl-st1dc,1sl-st) we make into the same loop. We repeat the same process until the end of the row.
CROWN MADE:
1: 5sc into Sh
2-42: Thread 5sc into the wire and close the end with the needle.
Crown Horns:
long horn:
1: Sh 8sc
2-15: 8sc
Medium horn:
1: Sh 7sc
2-10: 7sc
short horn:
1: Sh 6sc
2-6: 6sc
DEER BAG:
1: Sh 6sc
2: 6in (12)
3: 1sc,1inc (18sc)
4: 2sc,1inc (24sc)
5: 3sc,1in (30)
6-10: Knit flat (30sc)
11: 3sc,1dec (24sc)
12: 2sc,1dec (18sc)
13: 1sc,1dec (12sc)
We put our 5 mm eyes between the 7th and 8th rows. There will be 4sc between them.
Deer Antlers:
Big Horn:
1: Sh 6sc
2-6: 6sc
Little Horn:
1: Sh 4sc
2-4: 4sc
Deer Nose:
1: Sh 6sc
2-3: 6sc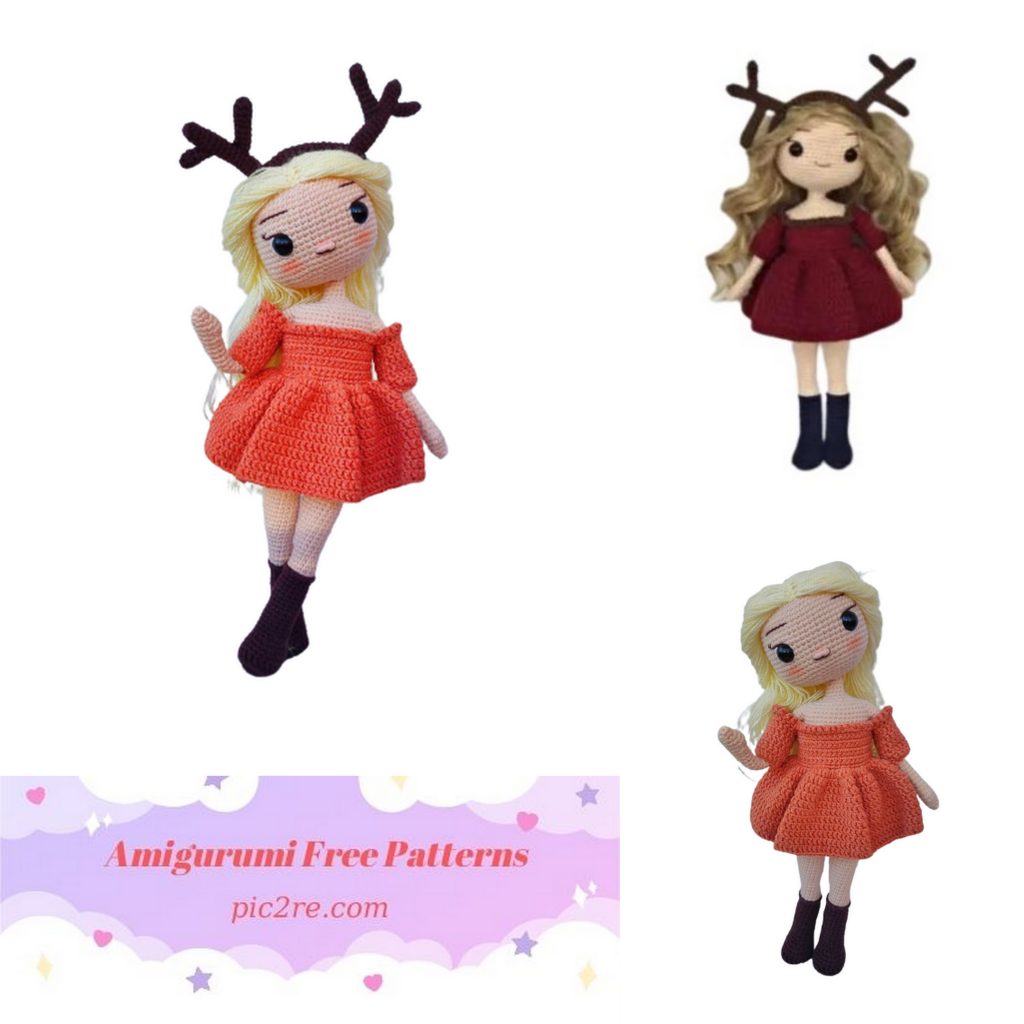 HAIR APPLICATION:
We open our hair and fix one end 12-13 rows up from the nape. We're going to spin it. Leave your forehead as open as possible, it will close later. It is enough to fix it 6 rows up from the eyebrows.
Turning the head, we sew the hair. You do not need to sew very often, it will be enough to sew at regular intervals. You can sew the front rows close to 1 row and the back rows 2 rows apart.
We sew our hair until a small area remains. Then we cut the hair and sew the remaining hair up to 10 cm by turning it and fix it by sewing it to the empty space we left on the head.
After the whole sewing process is finished, we pull the hair back from the front of the face and straighten it with our hands and give it the shape we want.
Now we wrap our hair in cling film. And keep it in hot water for 1 minute. Let's make sure that there are no gaps while wrapping and that the water does not leak.
And our hair is ready.