Amigurumi Blue Dinosaur Free Pattern
Hello, your child will love the Amigurumi Blue Dinosaur Free pattern, follow it for the most beautiful current patterns.
MATERIALS FOR TOY:
You can crochet with absolutely any yarn.
• Plush yarn in two colors, consumption of the main smaller skein, holofiber.
• Hook 4.5 or the one you used to crochet.
• Felt white for the eyes and colored for the belly (optional).
• The eyes are sewn on or false. I have a size of 1 cm.
• Vitacoco yarn or equivalent for assembly.
• Yarn for embroidery of eyebrows, eyelashes, etc. – coco or semi-cotton, cotton, of your choice. I use jeans No. 70.
• To fasten the limbs, 1 cm buttons or joints (I do not explain how to fasten and crochet with the joints).
Abbreviations
AR – Amigurumi Magic ring
MR – Amigurumi Magic ring
3in1 – crochet 3 columns in one loop
sc : Single Crochet
inc : Increase
dec : Decrease
tr : Triple Crochet/ Treble Crochet
st: Stitch
dc : Double Crochet
hdc: Half Double Crochet
sl-st or Slst: Slip Stitch
ch : Chain
tch: Turnin chain crochet
..in : make increase into same stitch as many as the number which is given in front of "inc" abbreviation (exp; 3inc, 4inc..).
FLO : Crochet into front loops only
BLO : Crochet into back loops only
Crochet Blue Dinosaur Amigurumi PDF Free Pattern (4)
HEAD-BODY:
crochet in one piece. We take the main color. crocheting begins with the head.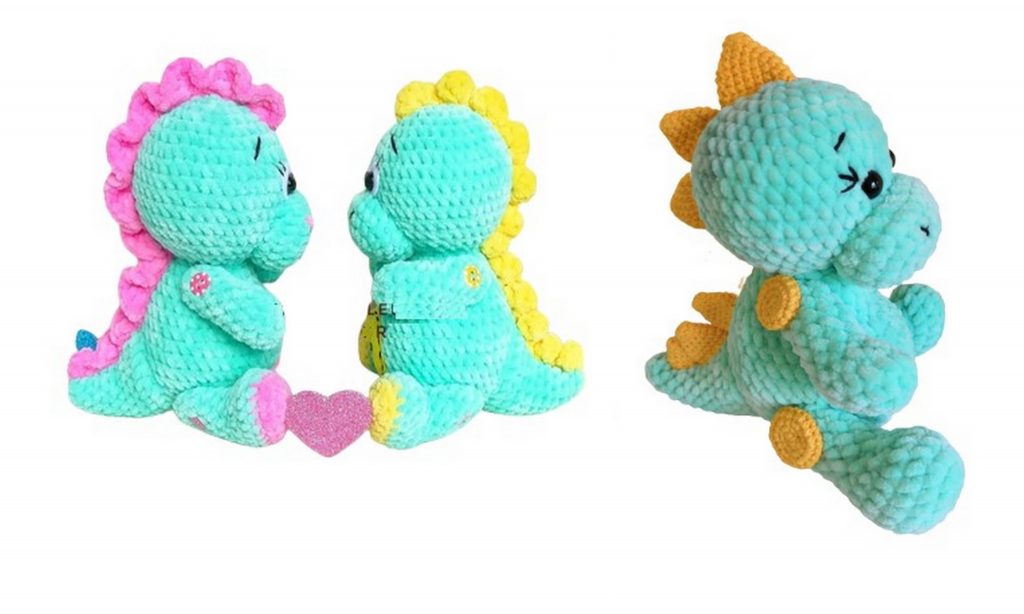 Head:
1.6sc in MR
2.6inc(12)
3.(sc,inc)*6(18)
4.(2sc,inc)*6(24)
5.(3sc,inc)*6(30)
6.(4sc,inc)*6(36)
7.(5sc,inc)*6(42)
8-11.(4rnds)42sc
12.(5sc,dec)*6(36)
13.(4sc,dec)*6(30)
14.(3sc,dec)*6(24)
15.(2sc,dec)*6(18)
16.(sc,dec)*6(12)
We stuff the Head. We continue to crochet the head together with the body.
body and head
Body:
17.(sc,inc)*6(18)
18.(2sc,inc)*6(24)
19-20.24sc(2rnds)
21.(3sc,inc)*6(30)
22.6inc,24sc(36)
23.36sc
24.(5sc,inc)*6(42)
25-28)42sc(4rnds)
If the Legs on the Joints are inserted between 27 and 28
29)(5sc,dec)*6(36)
30)(4sc,dec)*6(30)
31)(3sc,dec)*6(24)
32)(2sc,dec)*6(18),Stuff
33)(sc,dec)*6(12)
34)6dec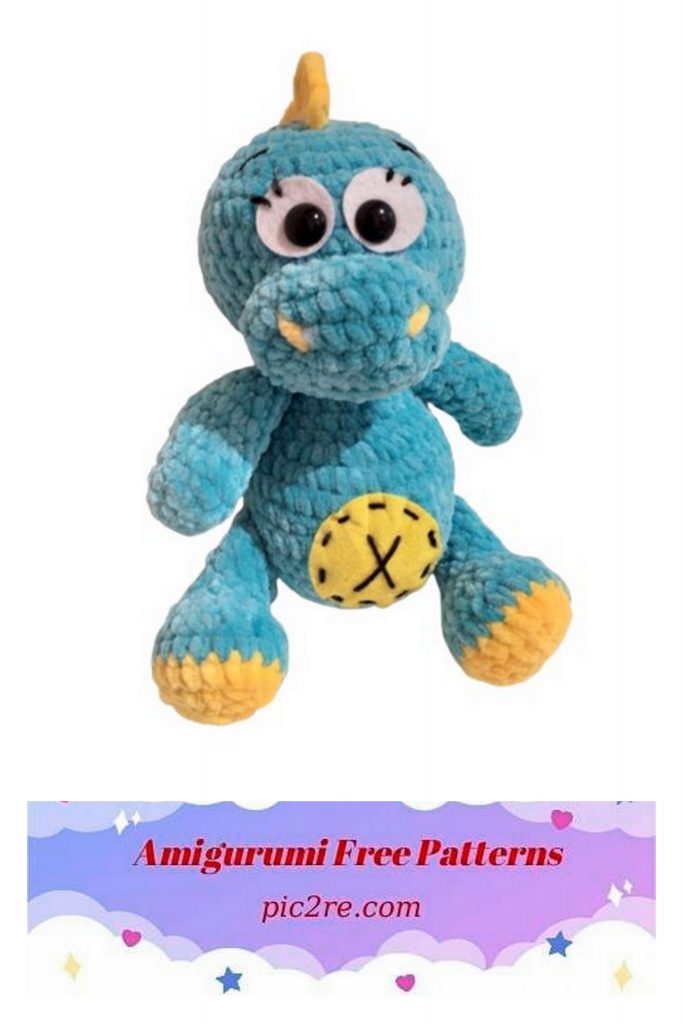 LEGS 2pcs:
Start crocheting With The Chosen yarn For The Foot.
1.we make 6 ch, in the second from the hook we make inc, then in the next 3sc, we crochet 3sc in the last loop, then we crochet in a circle, 4 sc.(12)
2.2inc,3sc,3inc,3sc,inc(18)
Change yarn Main Color.
3-4.18sc
5.7sc,4dec,3sc(14)
6.5sc,4dec,1sc(10)
7-8.10sc
9.(4sc,inc)*2(12)
10.12sc
11.(4sc,dec)*2(10)
Stuff with filler.
12.5dec.
Cut, hide the yarn.
legs and arms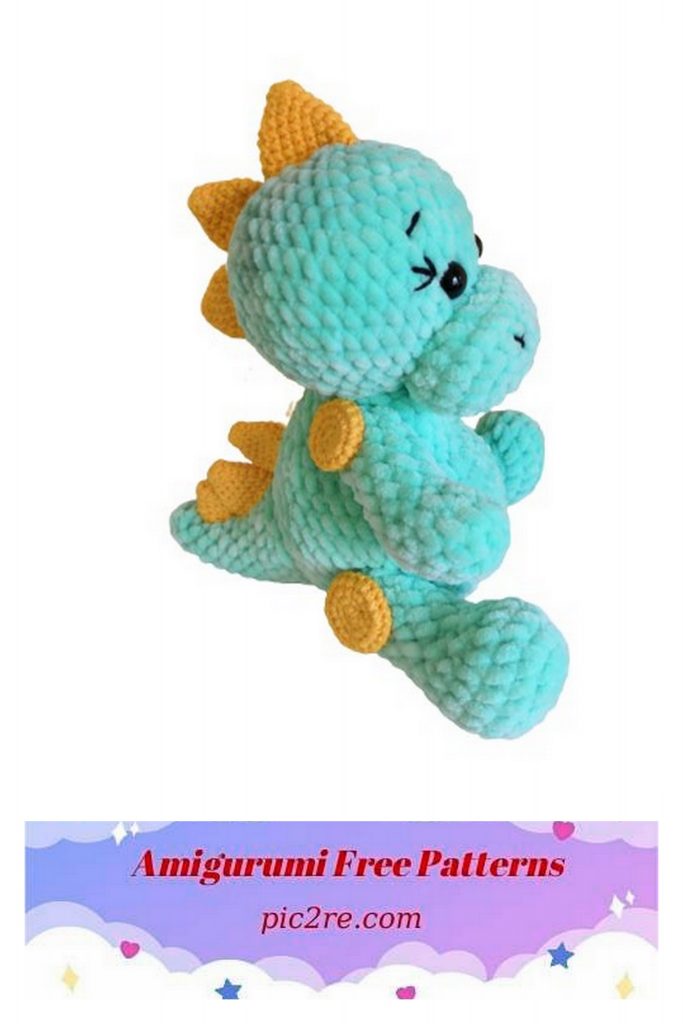 Arms 2 pcs:
We crochet with the main color.
1.6sc in MR
2.6inc(12)
3.(3sc,inc)*3(15)
4.4dec,7sc(11)
5.2dec,7sc(9)
6-10.9sc(5rnds)
Stuff the arm
11.5dec
Cut, hide the yarn.
TAIL:
main color
1.6sc in MR
2.6sc
3.(sc,inc)*3(9)
4.9sc
5.(2sc,inc)*3(12)
6.12sc
7.(3sc,inc)*3(15)
8.15sc
9.3inc,12sc(18)
10.(inc,sc)*4,8sc,inc,sc(23)
11.23sc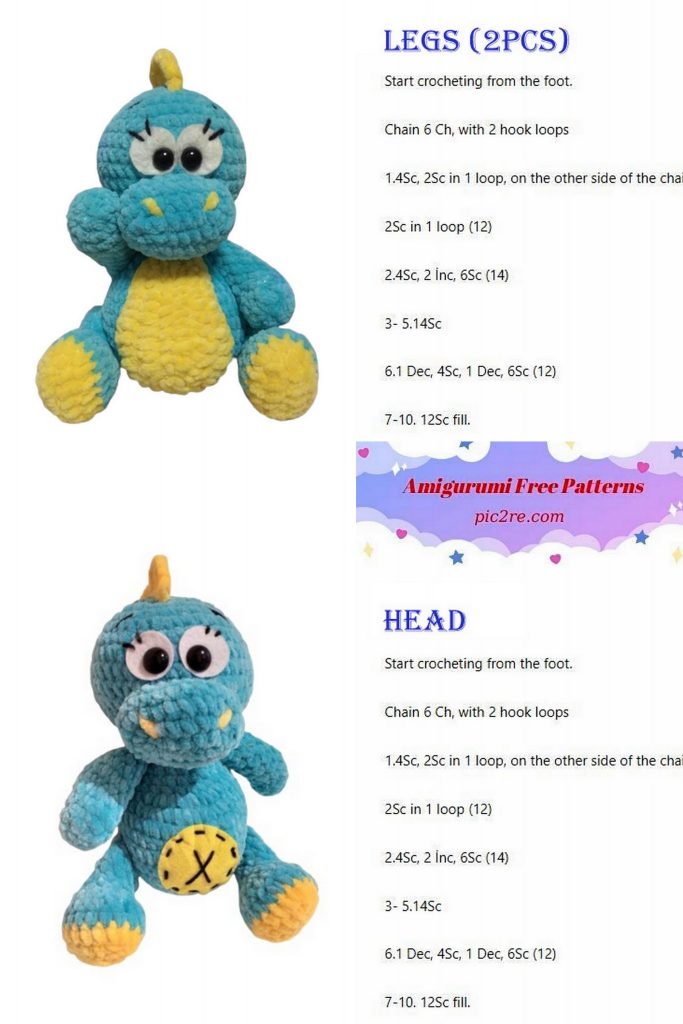 Muzzle:
main color
1.We collect 7ch in a chain.
We crochet in a circle.
Inc, 4 sc, 3 sc in last loop, 5 sc remaining loops(14)
2.2inc,4sc,3inc,4sc,inc(20)
3.(sc,inc)*2,5sc,(inc,sc)*3,4sc,inc (26)
4.26 sc + 1 offset column.
5.(dec,sc)*2,5sc,(dec,sc)*3,4sc,dec (20)
"MANE":
Make 47ch.
We start crocheting In the 2nd loop from Hook:
(2ch,step back 2 loops of the chain in one loop, crochet 4dc, 2ch, retreat 2 loops slst)*7
Further 1ch, retreat 1 loop, crochet into the next 2dc, 1ch, skip one and slst.
Crochet Blue Dinosaur Amigurumi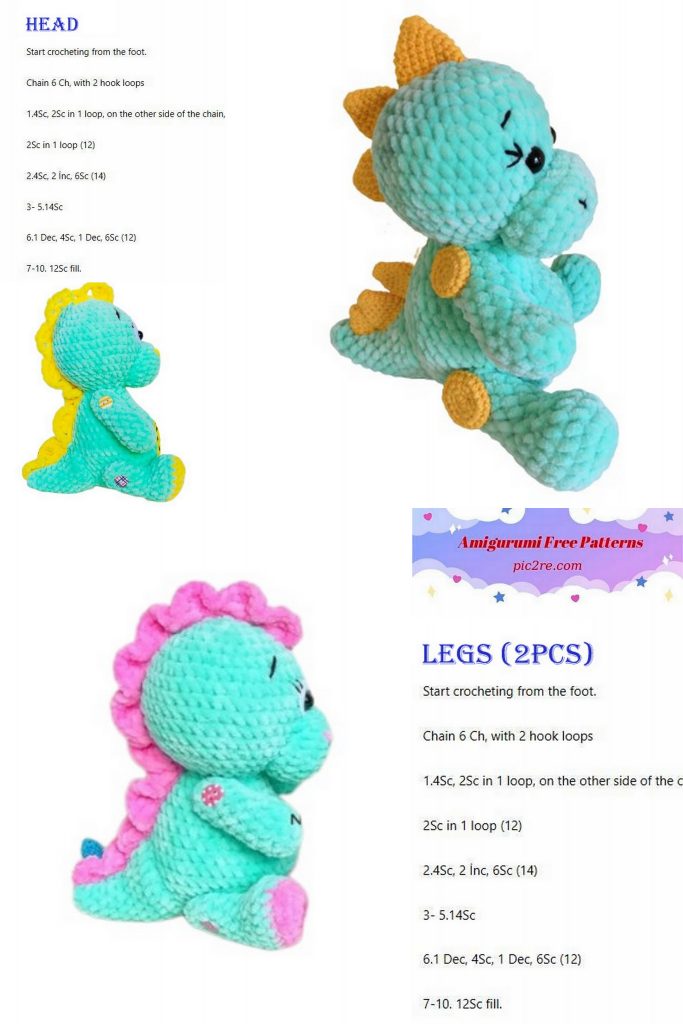 ASSEMBLY:
1. We sew the handles of the legs using the "button fastening" method. We sew them back several times.
I fastened the legs between 7 and 8 rows, counting from the bottom. Top 27-28 rows.
2.We embroider the nostrils on the muzzle, sew it on d9 next to it. We stuff it.
3.We sew on the eyes. Cut out two circles from white felt. I made them in different sizes. I circled one for 1 ruble, the second for 2 rubles each. and eyelashes, I embroidered yarn Yarn Art Jeans No. 70. We glue the felt to the head with instant crystal gel glue.
4.Sew on the Tail. Between 4 and 12 rows, counting from the bottom. We stuff the sewing campaign.
5.We sew on the mane, starting from the tail, attaching the "mane" so that the tubercle that we crocheted at the end, small, was on the tail.
6.We sew the belly with jeans yarn, cut out a circle of felt with a size of 4.2 cm in diameter. Can be embroidered with yarn stitches and navel on felt.