Amigurumi Mihrimah Doll Free Pattern
We continue to share the most beautiful and free amigurumi patterns for you. You can visit our website for Amigurumi mihrimah doll Free Pattern and more patterns.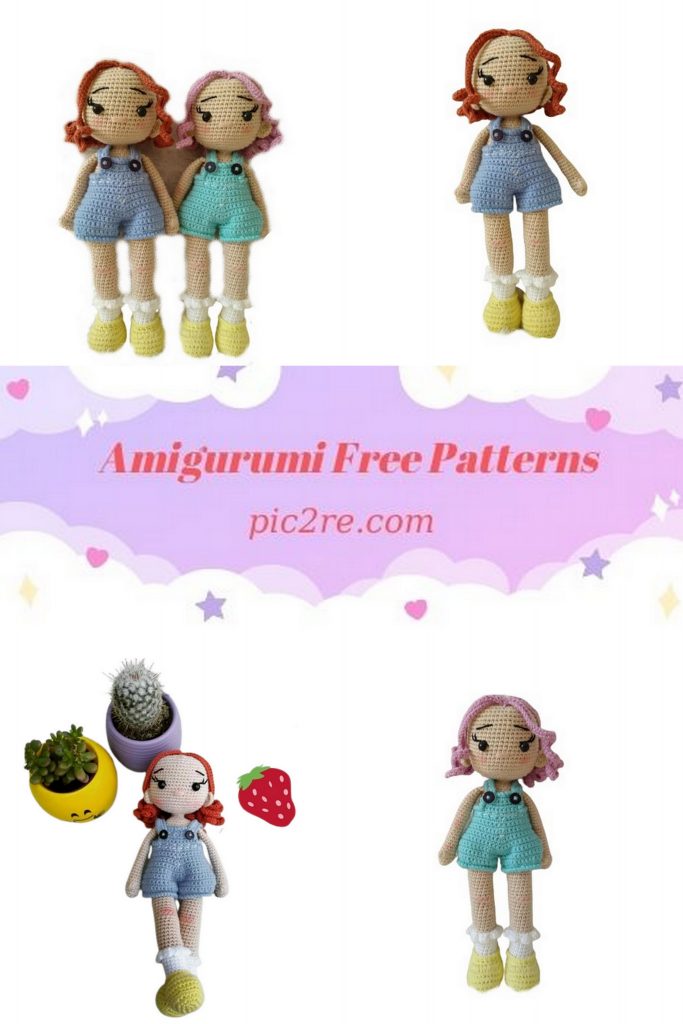 LEGS
We start with yellow
1.7ch 5sc,1w,4sc,1inc=14sc
2.1inc,5sc,3inc,4sc,2inc=20sc
3.1sc,1inc,4sc,(1sc,1inc)*3.4sc,(1sc,1inc)*2=26sc
4.2sc,1inc,4sc,(2sc,1inc)*3.4sc,(2sc,1inc)*2=32sc
5.blo.32sc
6-8.32sc
9.8sc,7dec,10sc=25sc
10.7sc,5dec,8sc=20sc
11.flo yellow with a row of sc 20sc change color with white
11.blo 6sc,3dec,8sc=17sc
12.17sc
13-18.17sc
19.flo(2ch, 2dc, 2ch 1sc into side sc)*to end of row. change color with skin color 19. blo 17sc
20-27.17sc
28.8sc,5inc,4sc=22sc. Let's do the averaging for the 5 inch knee here.
29.8sc,5dec,4sc=17sc
Let's cut the 30-41.17sc tan thread, fold it in half with white, knit 8sc the other leg in the same way and connect it with 4 chains, cut the thread, let's neither start with the right leg.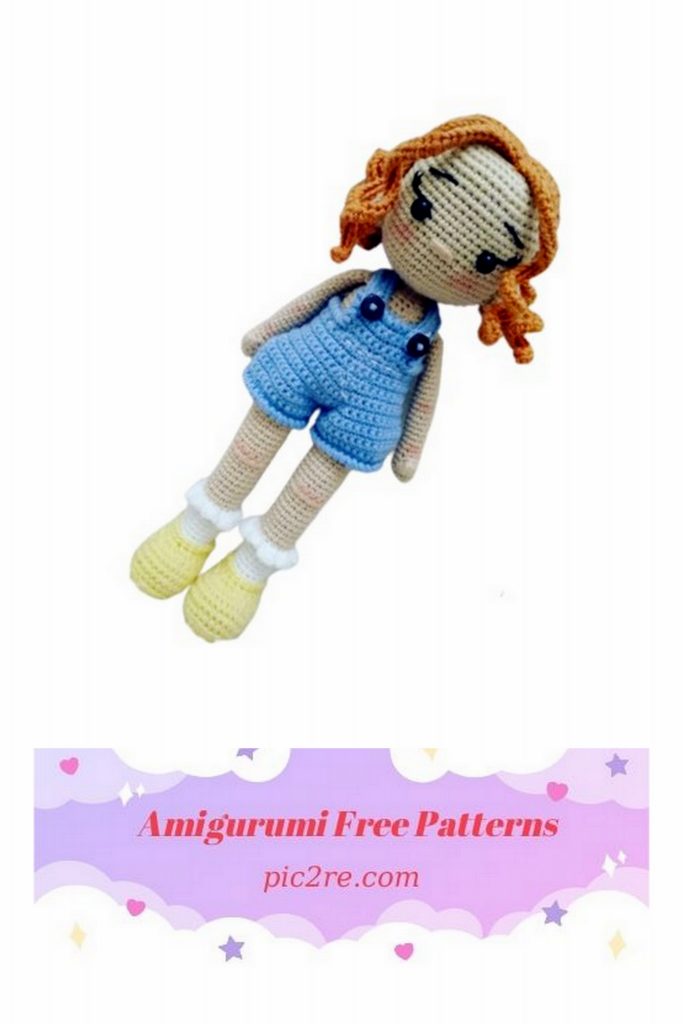 ARM
1.sh.6sc
2.6inc.= 12sc
3-4.12sc
5.1sc,1p, 10sc= 12sc
6.12sc
7.1sc,1dec,4sc,1dec,3sc=10sc
8-26.10sc
27.double 5sc
BODY
continue with white
1.flo 8sc,4sc(ch over),flo8sc, blo8sc, 4sc(ch over),blo8sc=40sc
2-6.40sc
7.1sc,1dec,17sc,1dec,18sc=38sc
8-10.38sc
11.9sc,1dec,17sc,1dec,8sc=36sc
12.36sc change color skin color
13.blo36sc
14.16sc
15.10sc,1dec,16sc,1dec,6sc=34sc
16-17.34sc
18.10sc,1dec,15sc,1dec,5sc=32sc
19.32sc
20.9sc,1dec,14sc,1dec,5sc=30sc
21.(3sc,1dec)*6=24sc
22.(2sc,1dec)*6=18sc
23.(1sc,1dec)*6=12sc
24-26.12sc
Let's not cut the rope, we will continue to the head.
HEAD
27.12inc=24sc
28.(1sc,1inc)*12=36sc
29.(5sc,1inc)*6=42sc
30.(6sc,1inc)*6=48sc
31.(7sc,1inc)*6=54sc
32-47.54sc
Let's keep going, let's not cut the rope.
At this stage, let's sew the ears to the appropriate place.
The eyes will be placed on the 38th row with a 9sc interval.
The nose will be embroidered on the 36th row. head continue..
48.(7sc,1dec)*6=48sc
49.(6sc,1dec)*6=42sc
50.(5sc,1dec)*6=36sc
51.(1sc,1dec)*12=24sc
52.12dec= 12sc
53.6dec=6sc
Note: Let's not forget to put a wire inside so that the neck does not fall.
EARS
1.sh.6sc, turn 1ch
2.(1sc,1inc)*3=9sc
TOUPEE
Let's put on the 20 chain, and the marker. And let's keep chaining.
1.40ch 38 hdc sl-st of the 18th chain we pulled at the beginning
2-7.40ch 38 hdc, we will sink in the form of 1 SL-ST with a chain jump to the chain we pulled at the beginning.
8.36 Ch 34 hDC.
9.34 Ch 36hdc, two to be made into the last chain
10.34ch 32 hdc. Let's go back and continue to braid the hair on the flo.
11.34ch 32 hdc
12.34ch 32hdc
13.36ch 34 hdc
14.40ch 38 hdc
15-20.40 Ch 38 hdc.
Let's leave the thread long and start sewing by fixing the hair with a needle.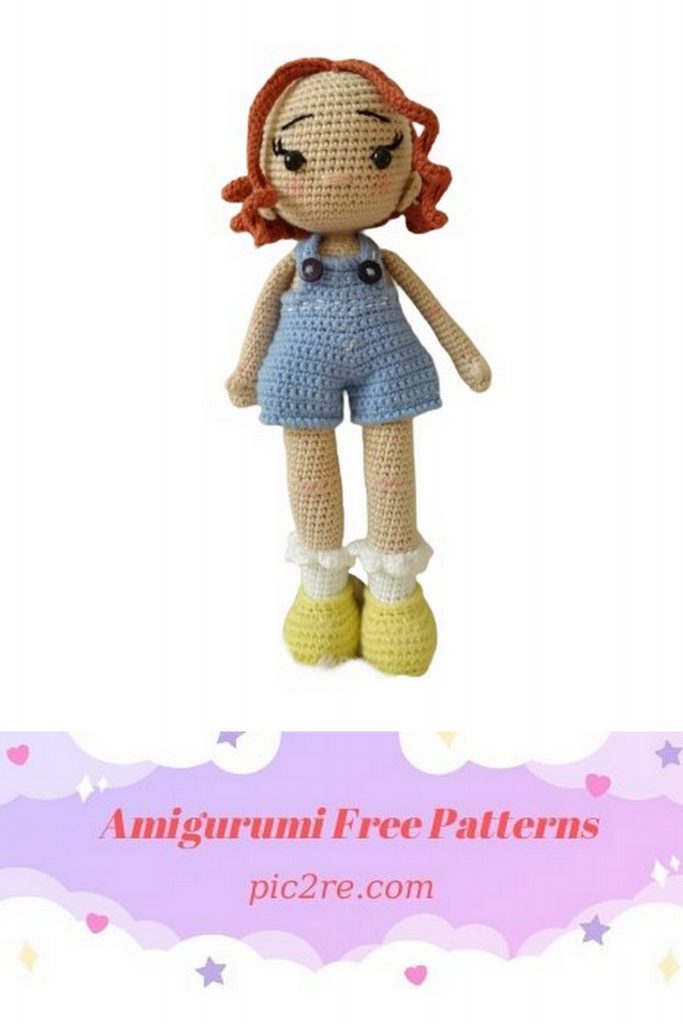 OVERALLS
We knit 2 pieces
Combine with the 1.30ch SL-ST.
2.1 chain turn 30sc 1 sl-st
3.1 ch turn 30sc 1 sl-st
Turn 4.1ch 30 sc 1 sl-st. Let's make 30 reverse sc on the 30 chain flock that we pulled at the beginning.
Let's knit the 2nd leg in the same way and continue by pulling 1 chain and turning.
1.30sc, 1sc, 30sc, 1sc=62sc we will go to the beginning of the row by pulling 1 chain and making 1 SL-ST
2-3.62sc
4.1 Ch return 2dec,10sc,2dec,10sc,4dec,9sc,2dec,10sc,2dec=50.1sl-st Return 1 ch
5-6.50sc 1 sl-st 1 Ch turn.
7.(1dec,10sc)*3,1dec,10sc,1dec=45sc 1sl-st 1 Ch turn
8.45sc 1 sl-st
Return 9.1dec,9sc,1dec,8sc,2dec,9sc,1dec,7sc,1dec=39sc 1cc 1 Ch
10.39sc
11-13.1ch turn 39sc 1cc
Note: It's okay to have 1 sc more or less at the end of the row. Let's cut the rope, center the front part and knit 10sc 4 rows. Let's go around each side with a reverse sc.
For the hooks (two will be made)
1.24ch, skip 1ch 22sc into last chain (1inc, 5ch, 1inc.) 22sc…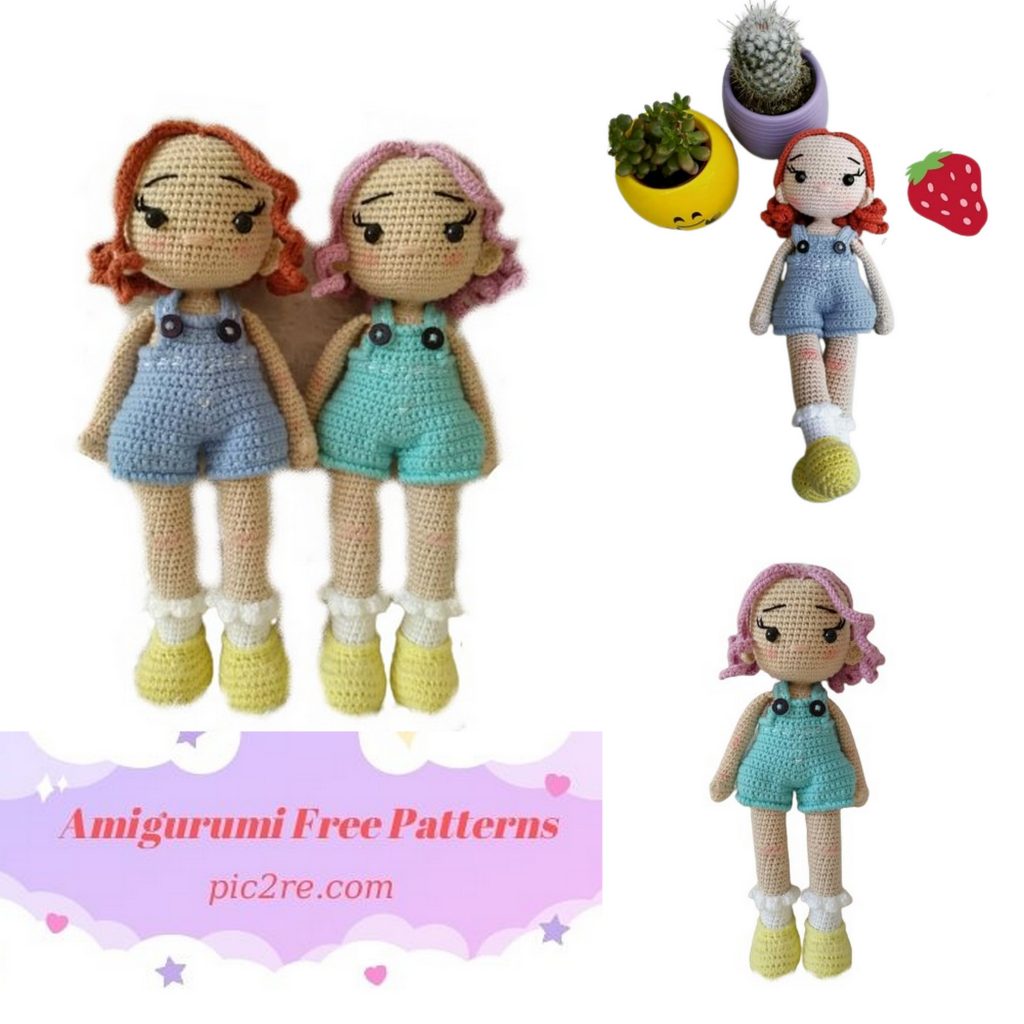 Let's sew the button of the jumpsuit. Let's process the edges with white thread and our baby is ready.