Amigurumi Christmas Doll Nolly Free Pattern
We continue to share the most beautiful and free amigurumi patterns for you. You can visit our website for Amigurumi Christmas doll nolly Free Pattern.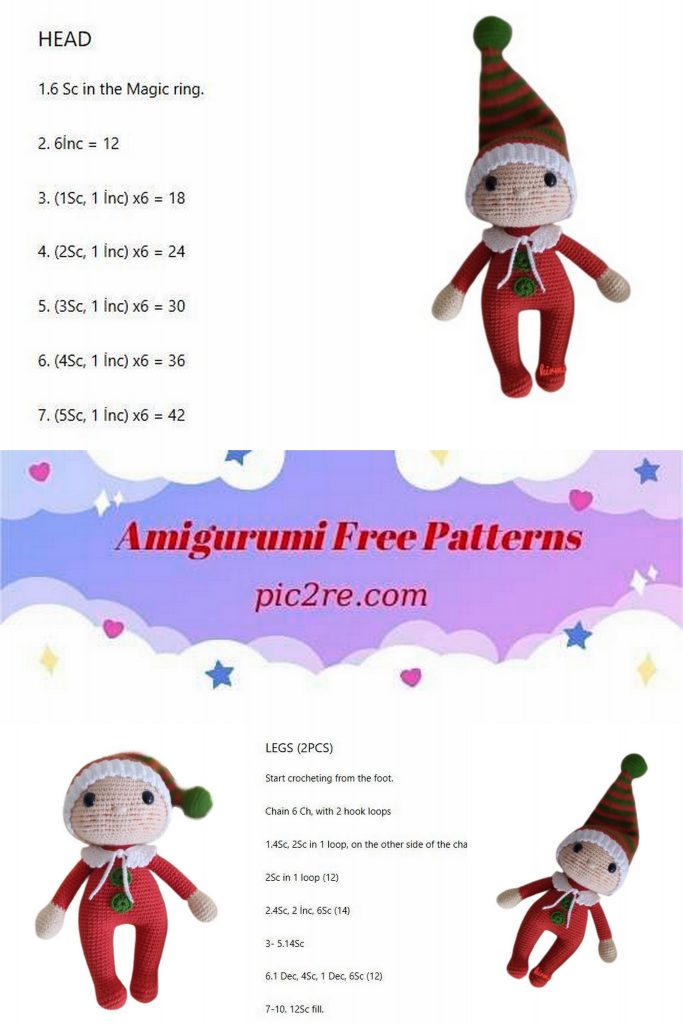 Head
1-mr 6sc
2-6inc
3-1sc,1inc=18sc
4-2sc,1inc=24sc
5-3sc,1inc=30sc,
6-4sc,1inc=36sc,
7-5sc,1inc=42sc,
8-6sc,1inc=48sc,
9-7sc,1inc=54sc,
10-8sc,1inc=60sc,
11-9sc,1inc=66sc,
12-18-66sc
19-20sc,(1sc,1inc)*5.5sc,(1sc,1inc)*5.21sc,=76sc,
20-23=76sc
24-20sc,(1sc,1a)*5.5sc,(1sc,1a)*5.21sc,=66sc,
25-9sc,1dec=60sc,
26-9sc,1inc=60sc,
27-7sc,1inc=48sc,
28-6sc,1inc=42sc,
29-5sc,1inc=48sc,
30-4sc,1inc=30sc,
31-3sc,1inc=24sc,
*eyes 17.18. put it between the loops, leaving 9 loops in between.
*Nose embroidery 1 row under the eye, starting from the 5th stitch, work 3 stitches.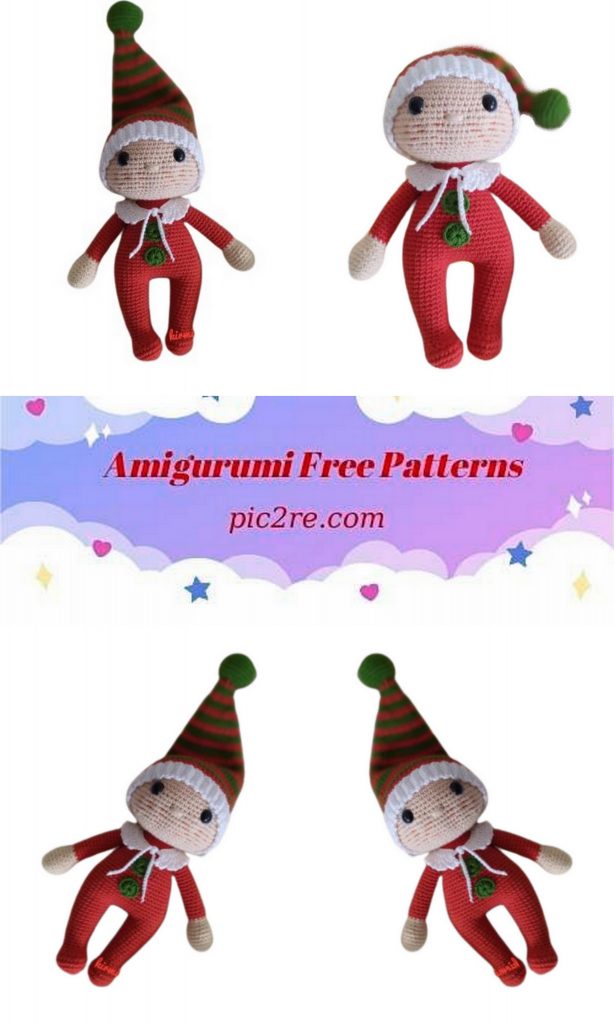 Arm (2 pcs)
1-mr 6sc,
2-6inc
3-1sc,1inc=18sc,
4.7=18sc
8-4sc,1dec=15sc,
9-15sc
10-3sc,1inc=12sc,
11-12sc, change color.
12.29-12sc.
Collar;
32 Ch, sc from the second chain. 3 ch, turn, dc into each stitch, turn, make 4 ch, sl-st into the next stitch. Continue like this until the end of the row. Make 20 ch for both ends of the collar and join the ends.
Button(2 pcs)
1-mr 12 combine with hdc,sl-st
Turn two turns, stitching from the top of the loops with a 2-needle.
Leg
2 pieces;
1-mr 6sc,
2-6inches
3-1sc,1inc=18sc,
4-2sc,1inc=24sc,
5.6=24sc
7-6sc,6dec(6sc,)=18sc,
8-6sc,3dec(6sc,)=15sc,
9.10=15sc
11-2sc,1inc(12sc,)=16sc,
12-16sc
13-3sc,1inc(12sc,)=17sc,
14-17sc
15-4sc,1inc(12sc,)=18sc,
16-18sc
17-5sc,1inc(12sc,)=19sc,
18-19sc
19-6sc,1inc(12sc,)=20sc,
20-20sc
21-7sc,1inc(12sc,)=21sc,
22-10sc, We knit from one more leg. On the second leg, we knit in row 22 (21sc,).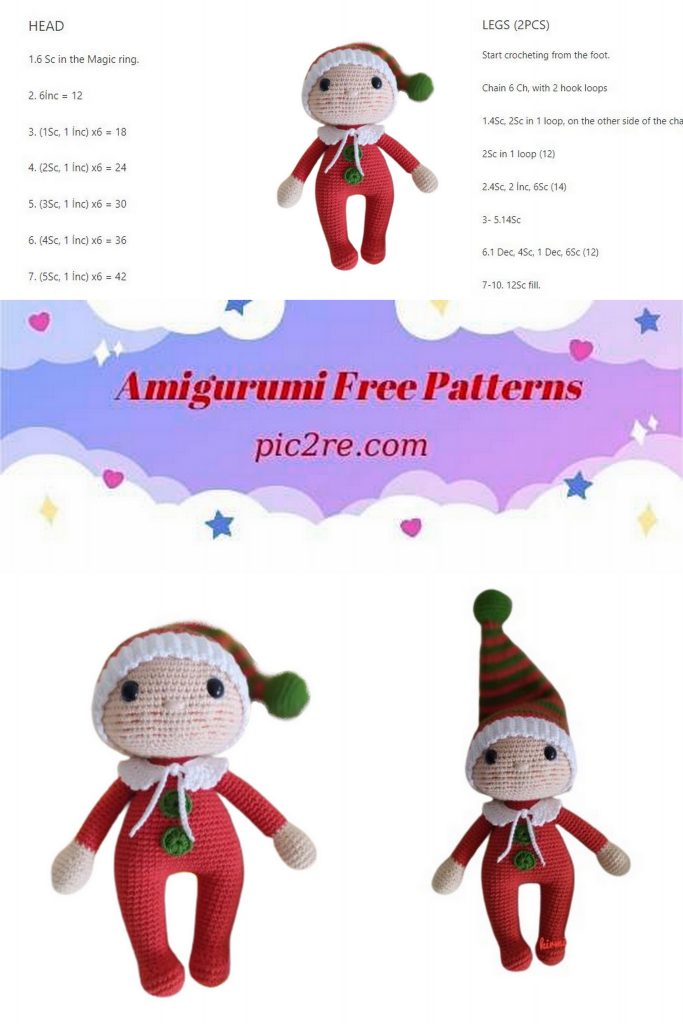 body
Continue from the leg;
23-While on the second leg, make 5 ch, sl-st into the last loop on the first leg. 20sc,1in. 5sc into chain,.(20sc,1inc) 5sc into chain,(21sc,1inc)5sc, attach loop marker.
24.29- 55sc,
30-10sc,1dec(3sc,1dec)20sc,1dec(3sc,1dec)11sc,=51sc,
31.32=51sc
33-9sc,1inc(3sc,1dec)18sc,1dec(3sc,1dec)10sc,=47sc,
34.35-47sc
36-8sc,1dec(3sc,1dec)16sc,1dec(3sc,1dec)9sc,=43sc,
37-43sc
38-7sc,1dec(3sc,1dec)14sc,1dec(3sc,1dec)8sc,=39sc,
39-39sc
40-6sc,1dec(3sc,1dec)12sc,1dec(3sc,1dec)7sc,=35sc,
41-35sc
42-5sc,1dec(3sc,1dec)10sc,1dec(3sc,1dec)6sc,=31sc,
43-31sc
44-4sc,1dec(3sc,1dec)8sc,1dec(3sc,1dec)5sc,=27sc,
45-27sc
46-3sc,1dec(3sc,1dec)6sc,1dec(3sc,1dec)4sc,=23sc,
47.50-23sc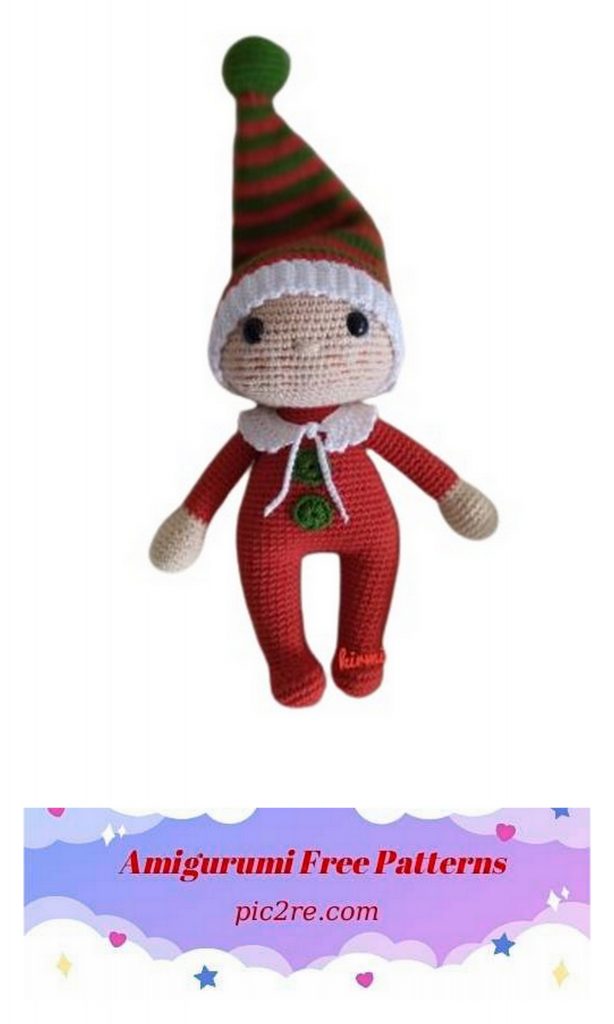 Cap
1- Tape part; 7 ch, 6sc from the second chain. Return with 1 ch. Make 6sc with blo… In this way, we make 62 rows. join the two edges with sc. make sc until we join. change color. 2 ch, make a row of dc Change color.
dc to the end of 2-row, change color.
3.4=knit flat.
5-8dc 1dec
6-7=knit flat.
8-7dc 1dec
9.10=knit flat.
11-6dc 1dec
12-plain knit.